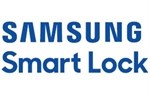 Model No :

*SAM-SHPDP738ACEN
Name :

SHP-DP738
Type :

SDL - Fingerprint
Origin :
Color :

Copper
Application :

Consumer
Features &
Specifications
Always Connected!
Samsung SHP-DP738
Turn your smartphone into a smart door key.
Smart Open
The sHome Door Lock app allows you to easily unlock the smart lock with a single tap once you've paired up your smartphone with the door lock.
One-time Password (OTP)
Create an OTP for your guests or visitors via sHome Door Lock App. OTP will be deleted once used.
Access Notification & Record
Receive real-time notifications from sHome Door Lock App when family members arrive home. View the door usage records anytime and anywhere. (Up to 30 records)
* Bluetooth connection required.
Smart Features
4 Access Modes
Mobile App (Bluetooth)
Fingerprint
User Access Code
Mechanical Override Keys
Upgraded Fingerprint Recognition
Fingerprint recognition performance will not be affected by external factors, e.g. Temperature and humidity. The new fingerprint reader has made the smart lock more secure and faster to unlock.
Anti-Theft Features
Random Security Code
Enter random digits before your password to reduce risk of intruders checking fingerprints.
Security Lockout Mode & Tamper Alarm
Lock stops operating for 3 minutes with 5 invalid PIN code attempts. The lock will sound if intruders attempt to force open the door.
Double Authorization
Requires fingerprint & password combination to unlock.
Specifications
Model

SHP-DP738

Mobile Bluetooth Pairing

Up to 8 smartphones

User Access Code

4-12 digits number (100 set)

Fingerprint

Up to 100 fingerprints

Size (WxHxD)

Outer body: 88mm X 392mm X 63.8mm

Inner body: 88mm X 392mm X 68.5mm

Weight

3.63kg(including both inner and outer bodies)

Door Thickness

45-60mm (1-3/4" to 2-3/8")

Backset

70mm

Power

DC 6V AA (LR6) Alkaline batteries x 8

Mechanical override keys

2pcs
Samsung SHP-DP738 User Guide Video
https://www.youtube.com/playlist?list=PL5FfErMuGO6zEtreC4Z5A9bGZYuEOarmZ
Samsung SHP-DP738 Video

DISCLAIMER
All information are subjected to change at anytime without prior notice by The PLC Group or its associated partners/suppliers. Should there be any variations in product functionality, outlook, technical specifications, documentation, service, warranty, promotions and/or pricing, the actual offering at the time of purchase shall be the confirmed version.
The website information is for reference only. For updated details, please contact The PLC Group.
In case of dispute, The PLC Group reserves the right to final decision.
If there is any inconsistency or conflict between English and Chinese version, the English version shall prevail.