NEW Samsung SMART Doorlock (PUSH-PULL) Now Available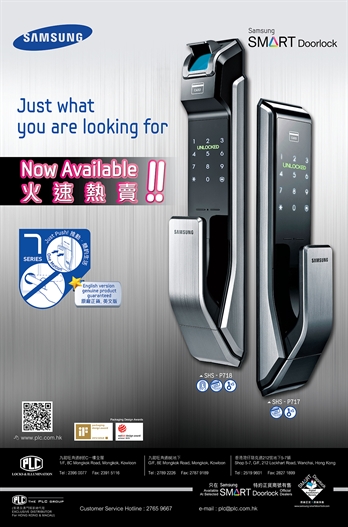 The 7 Series PUSH-PULL is an innovative premium product that combines four essentials: convenience, safety, innovative features, and design. Without a doubt, this product provides great innovation to the current access control market. It is the world's first door lock designed with the knob facing the roof — the result of a consumer ergonomics study.
With a desire to help customers better manage their daily door operations, Samsung has been studying basic arm movements and wrist angles in order to maximize the consumers' overall experience. Now Samsung is providing a comfortable and intuitive way to handle door operations with its innovative PUSH-PULL technology.
Please click SHS-P717 / SHS-P718 for product details and contact PLC Customer Service Hotline (852)2765 9667 for further enquiry.